PRODUCT INTRODUCTION:
WT-XL passive filter compensation device consists of filter capacitor, filter reactor, thyristor switching device, controller and protection system. The filter compensation branch is designed according to the harmonic characteristics, content and reactive power of the system. Its working principle is to provide a channel with very low impedance for the harmonic current of a certain frequency, and form a shunt relationship with the grid impedance, so that the harmonic current of the frequency flows into the filter branch, so as to greatly reduce the harmonic current injected into PCC point and the harmonic voltage distortion rate of the system.
The compensation device is especially suitable for various electric fields with large harmonic current and low power factor in metallurgical smelting, tire manufacturing, cement products, plastic packaging, steel rolling and copper rolling, coal mining and other industries.
MODEL DESCRIPTION: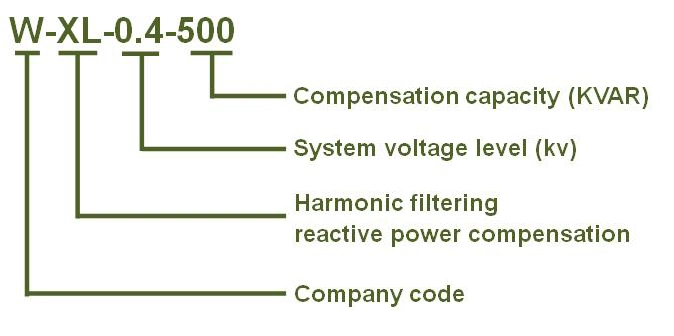 SPECIFICATION SHEET:
System voltage
(kv)
Filter compensation capacity
(kva)

Filter branch

Parallel cabinet

Size(mm)
Width*Height*Depth

0.4

240

5.7

1

1000*1000*2200

0.4

300

5.7.11

1

0.4

350

5.7.11

2

0.69

240

5

1

0.69

320

5.7

1

0.69

360

5.7.11

2
The filter compensation device other than the above scheme can be specially designed
according to the requirements of customers or the actual situation of the system
APPLICATIONS:
| | | |
| --- | --- | --- |
| Type | System voltage | Applicable industries |
| WT-XL-B-1 | 100V-400V | Special for copper electrolysis, aluminum electrolysis and electroplating production lines |
| WT-XL-B-2 | 400V,620V,660V,690V | Special for rolling mill |
| WT-XL-B-3 | 660V,690V,1920V | Special for tire mixer |
| WT-XL-B-4 | 400V-750V | Special for medium frequency smelting furnace |
| WT-XL-B-5 | 400V | Special for steel wire drawing production line |
| WT-XL-B-6 | 400V | Special for battery production line |
| WT-XL-B-7 | 400V,600V | Special for oil exploration and production self provided generator set |
| WT-XL-B-8 | 400V,600V | metallurgy |
| WT-XL-B-9 | 400V,600V | chemical industry |
| WT-XL-B-10 | 400V,600V | Single product furnace |
| WT-XL-B-11 | 400V,600V | Rubber industry |
| WT-XL-B-12 | 400V,600V | Steel pipe manufacturing |
| WT-XL-B-13 | 400V,600V | casting |
| WT-XL-B-14 | 400V,600V | Automobile manufacturing |
| WT-XL-B-15 | 400V,600V | Plastic manufacturing |
TECHNICAL FEATURES:
1.It has the function of harmonic filtering, which can filter the 3rd, 5th, 7th, 11th and 13th harmonics;
2.Under the condition of satisfying the reactive power compensation, the power factor can be increased to more than 0.92;
3.The dynamic response speed is fast, and it can be completed within 20ms. It is suitable for large capacity impact load and has wide application range;
4.Dynamic tracking load change, fully automatic and long-term continuous operation.
5.It has the advantages of less investment, high efficiency, simple structure, reliable operation and convenient maintenance.
6.The total absorption rate of typical harmonic current can reach more than 70%, and the harmonic current and harmonic voltage injected into PCC point can meet the national standard limit specified in GB / T14549-93.
7.It overcomes the shortcomings of traditional AC contactor switching mode, without switching inrush current, arc re ignition, and without discharge.
8.It has over-voltage protection, over-current protection, overheat protection and grounding protection, with perfect protection and high reliability coefficient.
TECHNICAL PARAMETER:
1.The results show that the total distortion rate of voltage harmonic at PCC point and the harmonic content of current meet the allowable value of GB / t14549-1993
2.The characteristic frequency harmonic absorption rate is more than 70%
3.Compensated average power factor ≥ 0.92
4.The response time is 15ms and the load changes rapidly
5.With overvoltage, current, overheating, grounding protection
6.Fully automatic, long-term continuous operation
USAGE ENVIRONMENT:
1.Ambient temperature-5ºC~+40ºC, relative humidity≤90RH(40ºC±2ºC no frost),
2.The altitude shall not exceed 2000m
3.The voltage fluctuation range shall not exceed ±10% of the rated working voltage
4,No severe vibration and impact, no inflammable and explosive hazard in the environment, no gas to damage insulation and corrode metal, no conductive dust