Key Specifications/Special Features:
1. High efficiency
2. High power
3. High current
4. Low power loss
5. Low temperature rise
6. High temperature grades are available
7. RoHS Directive-compliant
8. UL insulation systems are available
9. Customized designs are accepted
10. OEM orders are welcome
Reasons of our top-quality components help your business succeed:
1. 14 years of experience customizing and power transformers and inductors
2. Your professional and reliable partner for various electronics
3. Over 1000 buyers value our products
4.
5000m
2
factory with 21 production lines and 200 employees
5. 10 million units annual capacity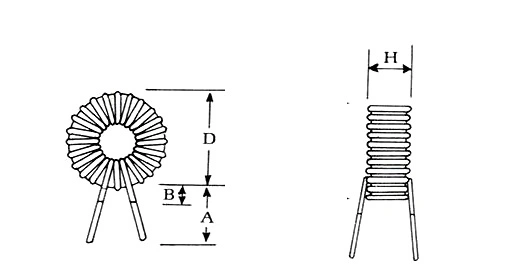 Electrical Specifications
:
Model

D (Max)

H (Max)

A (Max)

B (Max)

Rated Current

Inductance

2026

8.0mm

4.5mm

25.0mm

1.5mm

0.1-0.5A

5uH-27uH

3026

12.0mm

7.0mm

25.0mm

1.5mm

0.5-2.0A

10uH-14uH

5026

18.0mm

10.0mm

25.0mm

1.5mm

1.0-3.0A

20uH-68uH

6826

24.0mm

10.5mm

25.0mm

1.5mm

1.0-5.0A

25uH-500uH

8026

26.5mm

11.5mm

25.0mm

2.0mm

3.0-5.0A

50uH-960uH

10626

36.0mm

19.5mm

25.0mm

2.5mm

2.0-10.0A

30uH-850uH

13026

42.0mm

21.5mm

25.0mm

2.5mm

2.0-10.0A

30uH-950uH

Inductance tolerance

:

+

5%

;

+

10%

;

+

20%
** We can design and manufacture customized part with specific requirement