Product description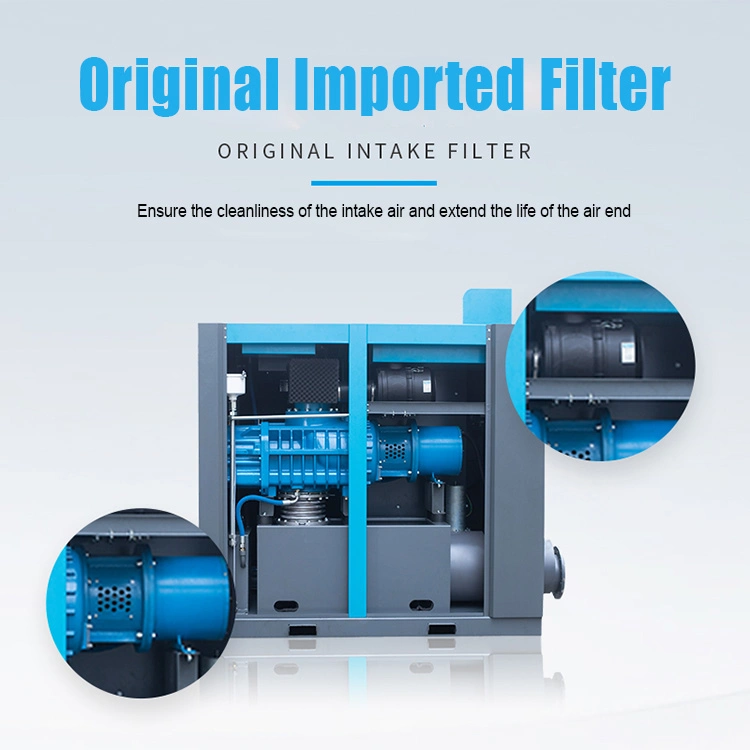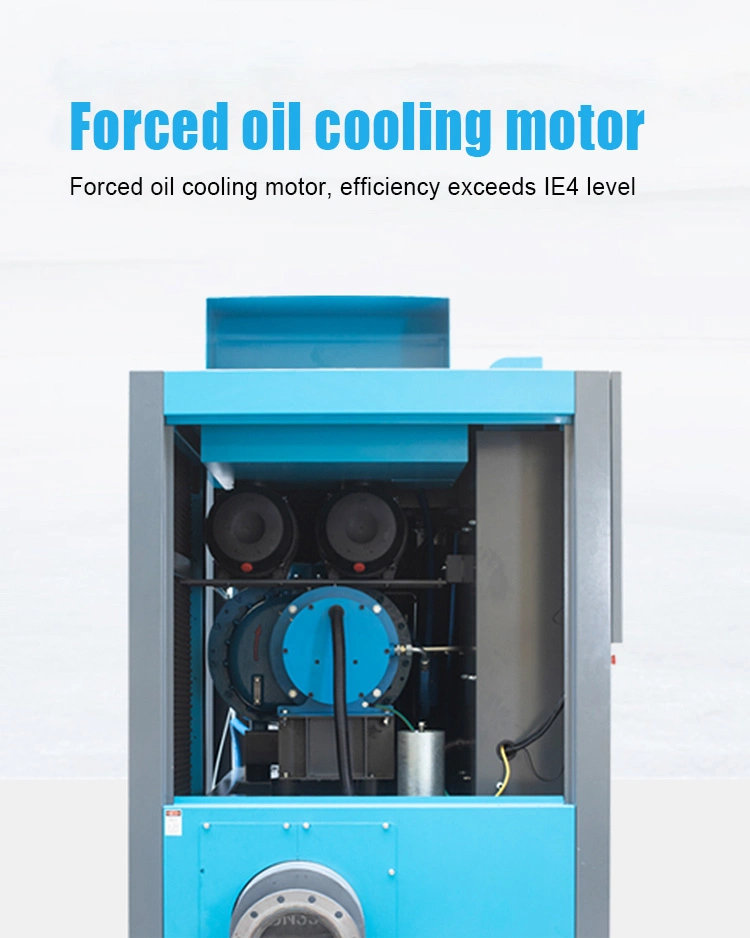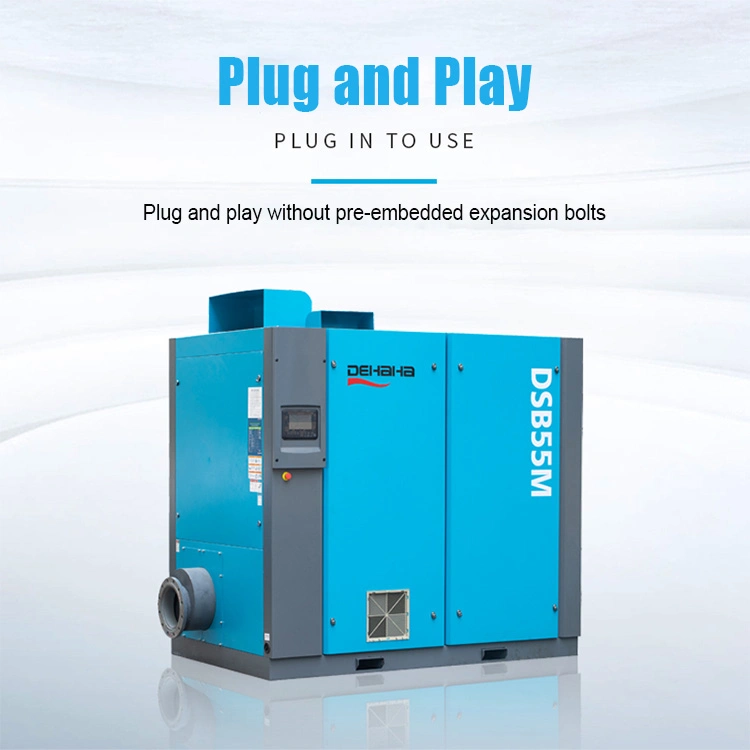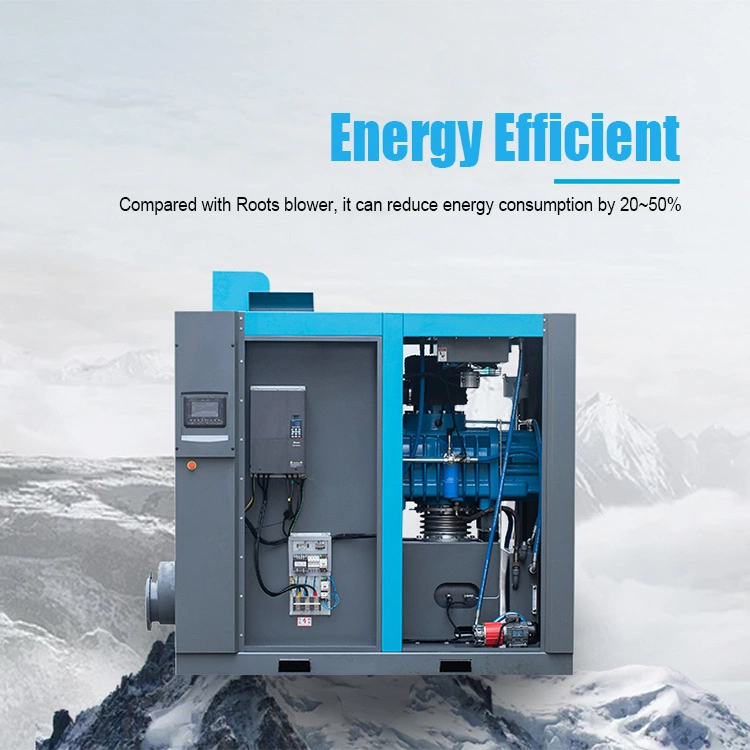 1

Model

DSB22M

2

Type

Fixed permanent magnet series oil-free screw blower

3

Dimensions(Length*width*height)

1500*1140*1650mm

4

Installation method

Fixed installation without foundation

5

Rated displacement

8.50 m

3

/min

6

Pressure adjustment range

120 kPa

8

Exhaust gas temperature

130ºC

9

Compression level

Single-stage

10

Transfer method

Direct

11

Compressed oil consumption

20 L

12

Cooling method

Wind cold

13

Cooling air volume

4400 m

3

/h

14

Ambient temperature

0 ~ 45

ºC

15

Noise

≤85 dB(A)

16

Equipment weight

980 kg

20

Power

22

kW

21

Voltage

380/50

V/HZ

22

Start method

Frequency conversion start

23

Motor protection level

IP65

24

Insulation class

F

25

Fan power

0.86 kW

26

Gas outlet pipe diameter

DN100
Technical Parameters
Model

Exhaust pressure(kpa)

40

50

60

70

80

90

100

110

120

130

140

150

DSB-XXX-M

Flow

15.7

15.6

15.1

14.9

14.7

20.4

14.4

14.3

19.9

13.6

13.3

13.2

Power

11

15

18.5

18.5

22

30

30

30

37

37

37

45

Flow

21.30

21.2

21.1

26.0

20.6

25.7

25.5

20.0

25.0

19.7

19.5

19.4

Power

15

18.5

22

30

30

37

37

37

45

45

45

45

Flow

26.8

26.6

31.1

30.9

30.8

30.6

30.5

25.3

30.2

24.8

24.6

29.7

Power

18.5

22

30

37

37

45

45

45

55

55

55

75

Flow

31.5

31.3

45.8

40.4

40..0

39.8

30.3

30.3

39.0

43.5

43.2

38.0

Power

22

30

45

45

55

55

55

55

75

90

90

90

Flow

41.2

46.0

54.6

50.5

54.0

53.8

44.4

44.1

49.0

52.7

52.5

52.2

Power

30

37

55

55

75

75

75

75

90

110

110

110

Flow

50.9

54.8

70.5

65.3

70.0

64.8

60.2

53.2

59.8

68.6

63.5

63.2

Power

37

45

75

75

90

90

90

90

110

132

132

132

Flow

61.7

65.9

81.8

77.3

81.4

70.5

69.4

64.2

68.9

/

/

68.0

Power

45

55

90

90

110

110

110

110

132

/

/

160

Flow

82.1

71.1

90.4

81.6

90.01

81.30

81.15

89.52

89.33

/

/

/

Power

75

75

110

110

132

132

132

132

160

185

/

/

Flow

92.10

81.85

/

/

/

/

89.71

/

/

/

/

/

Power

90

90

/

/

/

/

160

/

/

/

/

/
Oil-injected screw compressor
Advantages: The pressure is stable, and it can be post-installed to remove water, dust and bacteria;
Disadvantages: Exhaust gas contains a lot of oil, causing pollution to the cloth, which does not meet the production requirements of melt-blown cloth.

Roots screw blower

Advantages: The exhaust does not contain oil or water
Disadvantages: The exhaust temperature is too low, contrary to the temperature requirements of the mold spinneret, which originally required heating and constant temperature, but he sent cooling air, which is likely to cause unstable melting temperature. The spinneret contains crystals, dust, and Bacteria, the pressure is unstable, because of its characteristic is that there is no pressure ratio, the outlet pressure is 80kpa, if you want to add sterilization and pre-dust removal, it will cause insufficient pressure, and the spinner does not form or block.

Oil-free screw blower

Advantages: stable pressure (40kpa ~ 150kpa variable frequency adjustable), high exhaust temperature (outlet 120 degrees Celsius), helps to constant melting temperature, can be oil-free, water-free, dust-free, sterile
Disadvantages: the price is more expensive
Certificate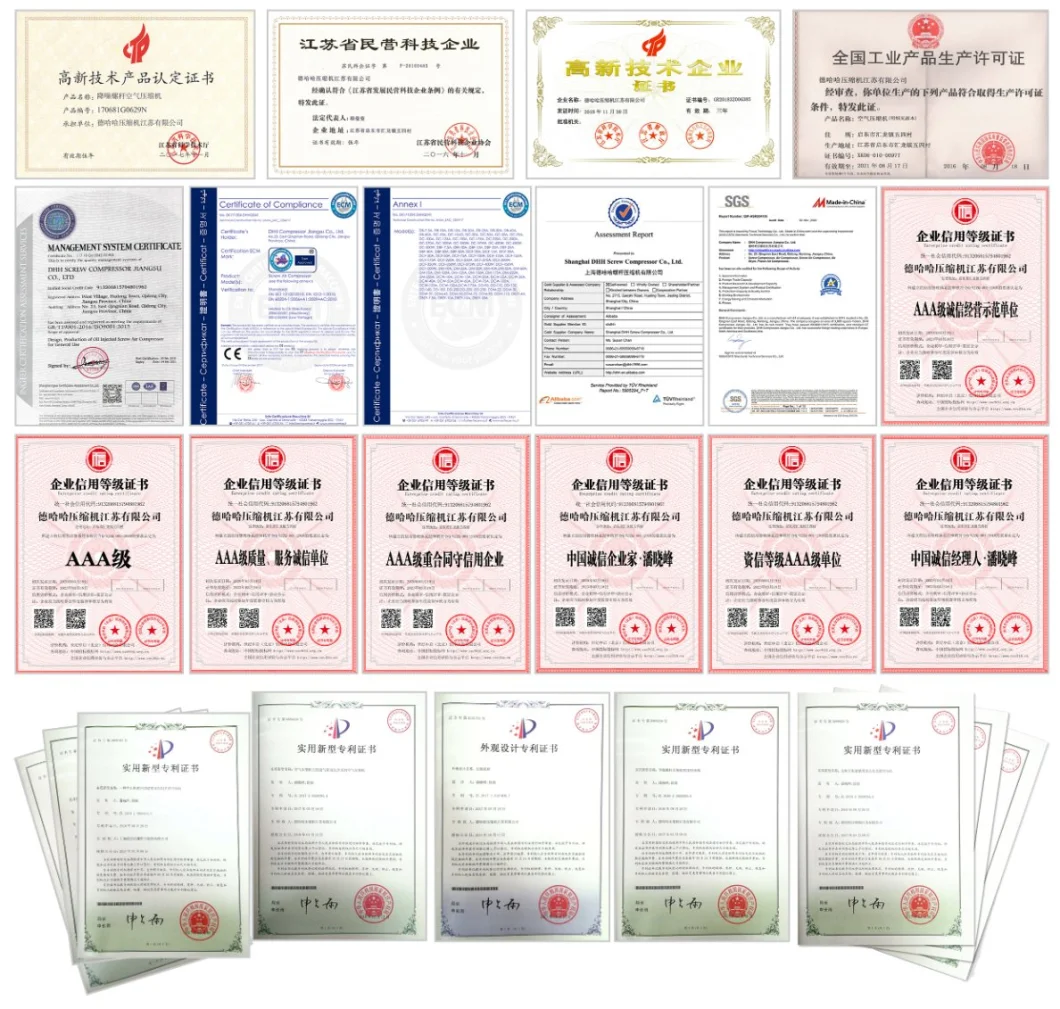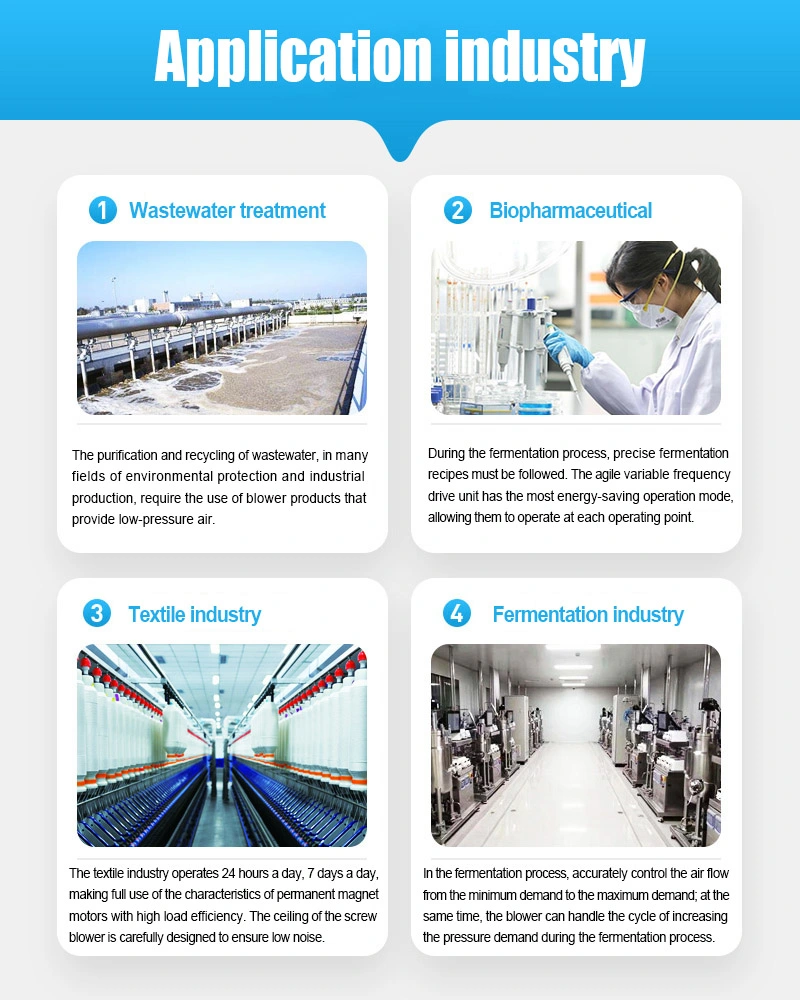 Project Case
As a new environmental protection and energy saving product, oil-free screw blower can be widely used in various industries. The main industries are:

1. Water treatment
Mainly used for aeration to fully mix water and reactants
Industry: Municipal / industrial wastewater treatment, electronics industry, papermaking, metallurgy, leather, printing and dyeing, etc.

2. Transportation
Mainly used for light particle powder and line conveying
Industry: Production of cement, lime powder, titanium dioxide chemical fiber micronets, etc.

3. Biological fermentation and breeding
Mainly used for oxygen supply and stirring
Industry: Food, brewing, breeding oxygen supply, cement / smelting desulfurization and denitrification, etc.

3. Powder conveying
Mainly used for powder transportation of light particles
Industry: Production of cement, lime powder, titanium dioxide, etc.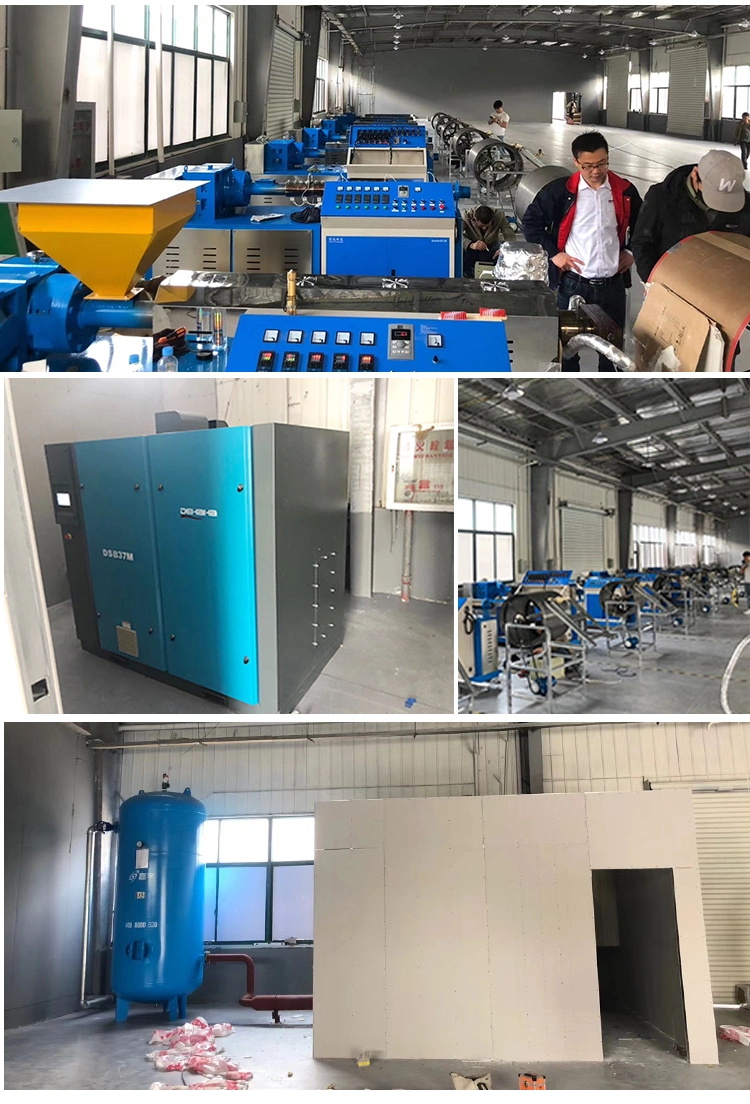 Customer Feedback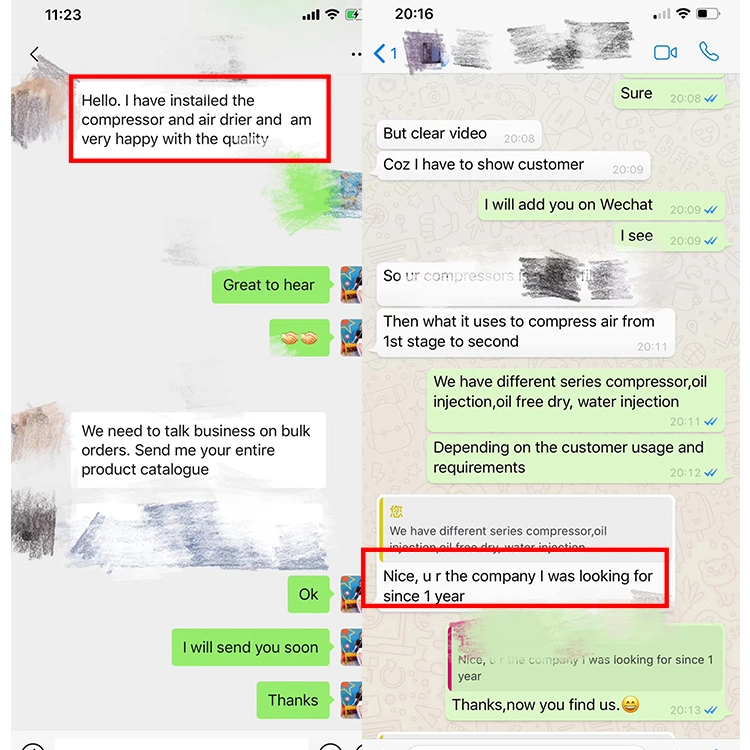 Packaging and Shipping
• Packing Details: Plywood crate pallet plus foam board and bubble film, Full closed wooden case. 1pcs/each package (for stationary screw air compressor)

• Shipping method: by sea, by LCL/FCL or as requested

• Delivery method: FOB, CFR, CIF and EXW etc.

• Delivery time: in 7-15 days after receiving deposit (customized machines not included)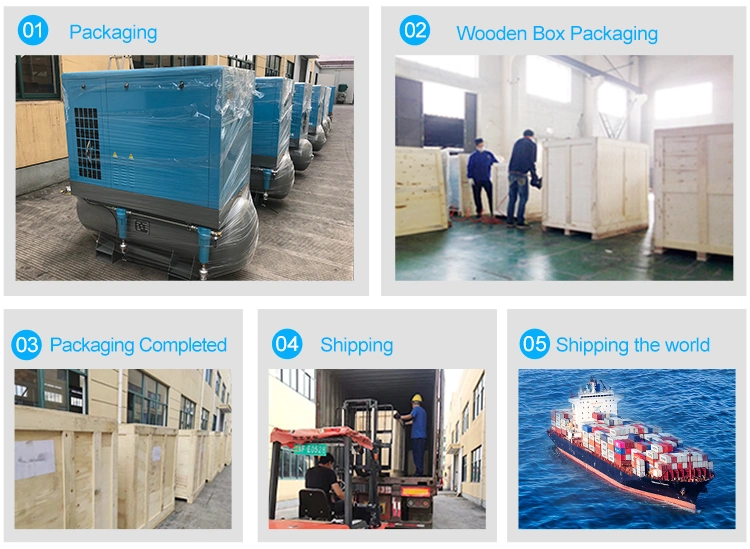 Company Profile
Dehaha Compressor was founded in 1996 with over 150 skilled employees and more than 25 R&D engineers' teams.We focus on the research & develop, manufacture and energy-saving solutions of screw air compressor to create value for customers and society.

Dehaha opened to the world since 2015, and now we have a foreign trade department with more than dozens people, serving customers around the world 24 hours. We have sales representatives who can speak English, Spanish, Portuguese, French,and Russian which makes it easier for our clients from all over the world to interact and negotiate with us.now our valued customers are over 130 countries. Germany Standard and 13 years exporting experience help us won more than 50 loyal overseas agents.

Dehaha continuously innovates product development and management to meet customers' demand. The powerful enterprise culture and continuous innovation make Dehaha improved rapidly to reach the business principle "Energy Saving First, Mutual Value Shared". The production line of DEHAHA is consist of screw air compressor from 5.5KW to 550KW, oil free air compressor, portable air compressor, permanent magnet variable frequency air compressor, high pressure air compressor and compressed air purification equipment,etc.

Dehaha mission is to be a world-renowned high-end brand, with sustainable development, constantly improving its own value and sharing it with our customers and staff. Committed to offer our customers a silent and energy-saving manufactured products.

Our Service
1.24/7 after sales service support in different languages.
2.Follow up the feedback of products in 2 months interval by email or call.
3.Guidance of installation and commissioning on site can be provided by factory-trained technicians or local Authorized Service Center.
4.Technical training for customers in DEHAHA air compressor factory or working site.
5.Plenty of original spare parts with proven quality are all available from our central stocks in Shanghai and all distributors'depots.
6.All kinds of technical documents in different languages.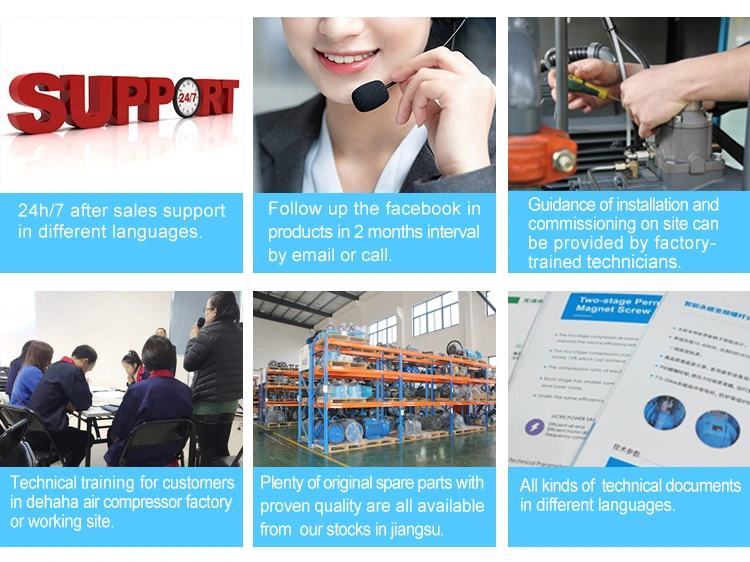 After-sale Service
• Any questions or requests before, during or after sales, we would like to help you any time and will find you the best solution in 24 hours.
• Warranty: One year for the whole machine Genuine spare parts will be provided with the best price.
• An overboard engineer service is available.
Special Customized Service
1) Full OEM
• Quantity: at least 5 pcs
• In this plan, we will do all the changes (Color, nameplate, and logo) as your need, and will not charge extra fee.
2) Half OEM
• Quantity: no limit
• Under this program, we can make the necessary alteration (nameplate and logo) but we will charge some extra fee for the nameplate, as the nameplate factory has the MOQ.
3) Logo OEM
• Quantity: no limit
• Only the logo will be changed to yours, and no extra fee will be charged.
Overseas Engineer Service
• We are available to send our engineer for aboard service. Only need you to arrange accommodation, transportation, and translator. The extra cost for each will be discussed based on the local price level.
Why choose us?
1.Quality Guarantee
With more than 24 years industry experience and our compressor approved by CE, ISO9001, SGS, And TUV test.The raw materials are strictly inspected and Some key parts are imported from overseas.Each compressor must pass at least 5 hours of continuous testing before leaving the factory.

2.Warranty Period
The complete machines are proviede with one-year warranty, and the compressor air end with Two-year warranty and lifetime maintenance(With the exception of wearing parts)

3. Installation and Commissioning
Provied customers with installation and commissioning instructions,and all service-providing personnel are strictly trained technically by our company.

4.After -sales Services
Our company has service network in world, giving prompt replies to customers after notified within 24~48hours for troubleshooting.

5.Spare Parts
Our company always supply spare parts on most favorable terms.
FAQ
Q1. Are you trading company or manufacture ?
A: We are professional manufacture of screw air compressor of Qidong(Close to Shanghai), China, more than 24 years.

Q2. How long is the delivery time ?
A: For standard voltage ,15 working days. Non-standard ,please contact our sales.

Q3. What's payment term ?
A: T/T, L/C, D/P, Western Union, Paypal, Credit Card, and etc. Also we could accept USD, RMB, Euro and other currency.

Q4. How about your after-sales service ?
A: 1.Provide customers with installation and commissioning online instructions.
2. Well-trained engineers available to overseas service.
3.Worldwide agents and after service avaiable.arrange our engineers to help you training and installation.

Q5. How about your warranty?
A: One year for the whole machine and two years for screw air end, except consumable spare parts.

Q6. Do you have any certificate ?
A: Yes, per different customer's market need ,we can offer CE ,ISO etc certificate.

Q7. What about the maintenance ?
A: First maintenance need to be done after 500Hours, and then every 2000-3000 hours to do the normal maintenance, and consider the actual environment.

Q8. How do you control quality ?
A: 1.The raw materials are strictly inspected
2. Some key parts are imported from overseas
3.Each compressor must pass at least 5 hours of continuous testing before leaving the factory.

Q9. Do you offer OEM service ?
A: Yes.Both OEM & ODM service can be accepted.

Q10.How long could your air compressor be used?
A: Generally, more than 10 years.