12V 150W LED WATERPROOF POWER SUPPLY :SIZE:187*68*20MM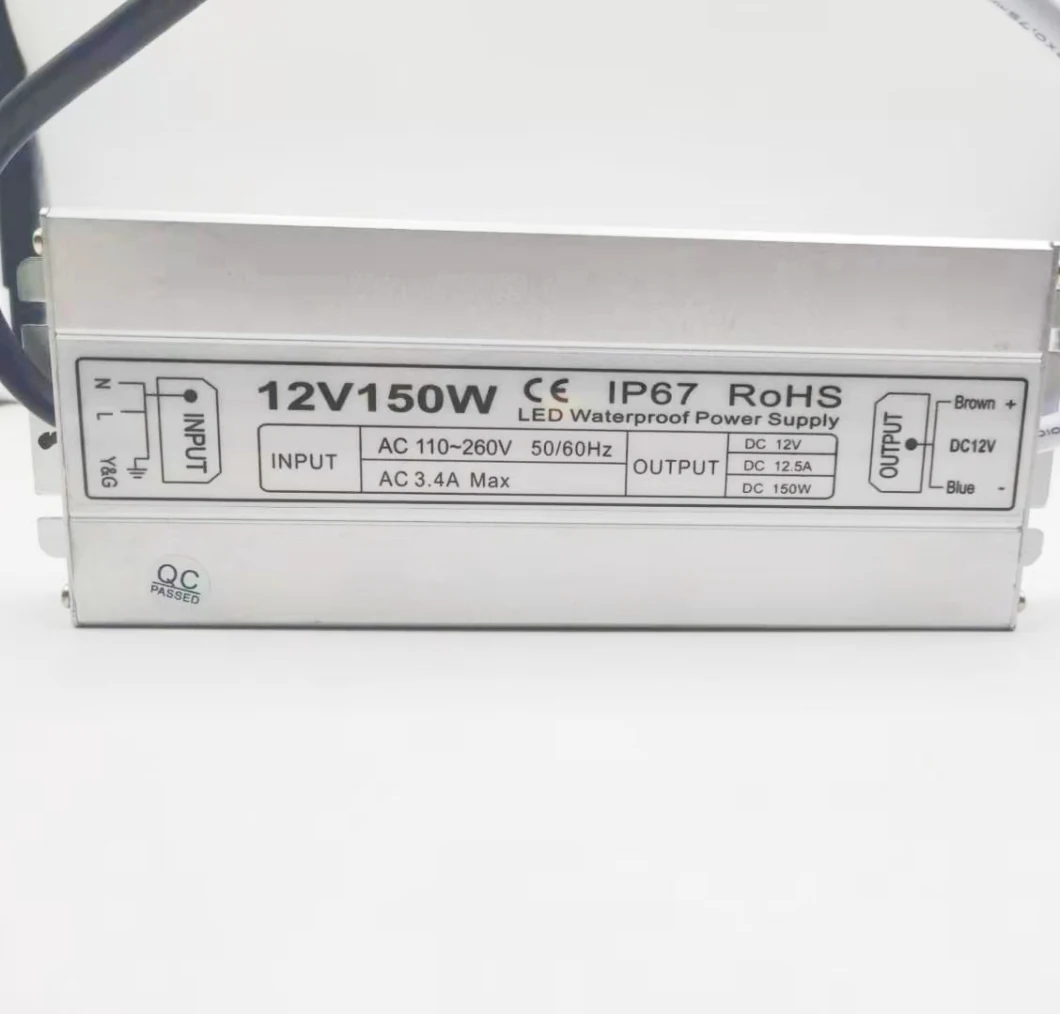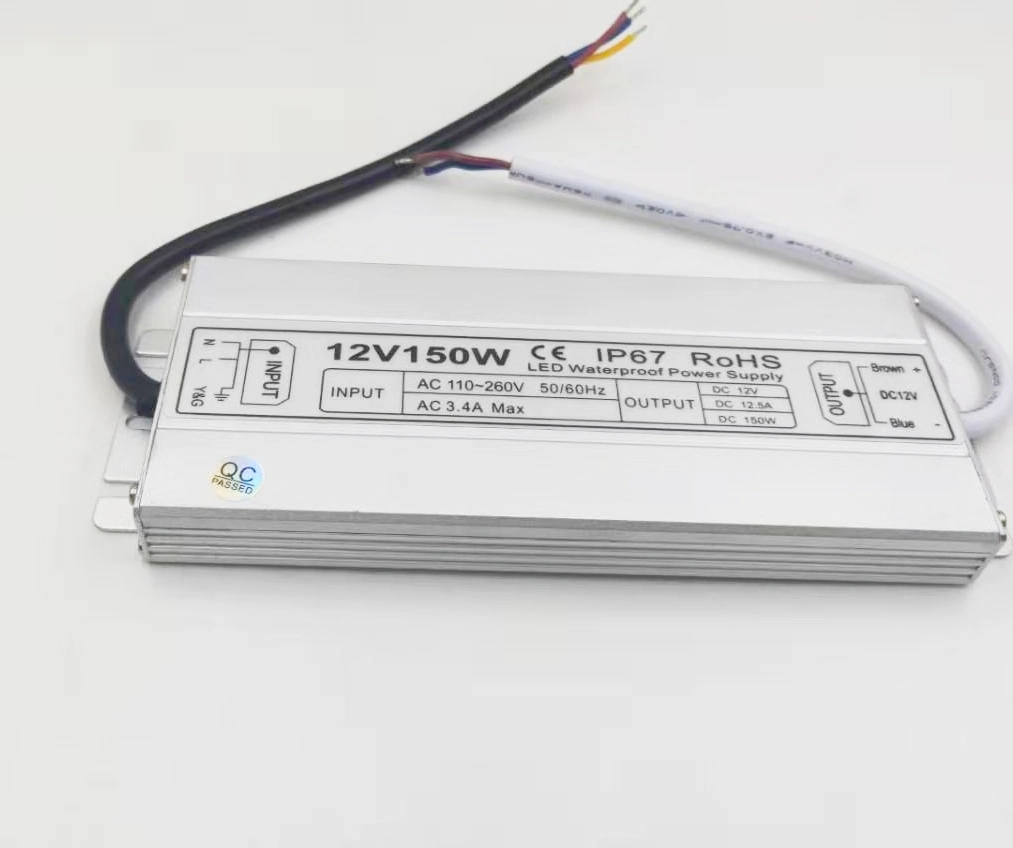 DC12V/24V/5V Waterproof IP67 150W LED Power Supply with CE Rohs

Features:
-12V150W Waterproof LED power supply, constant voltage.
-Epoxy encapsulated, IP67. Suitable for outdoor lighting application.
-Automated protection for over load and over temperature
-Aluminum housing, good for heat dissipation
-Cooling by free air convection.
-Application: LED display, LED sign, LED channel letter, LED underwater light, LED outdoor decorative lighting.
Specifications

Model Specification
YLTF-150 A
YLTF-150 B
DC Output Voltage
24V
12V
12V
24V
Iutput Voltage Error
± 2%
± 6%
± 2%
± 7%
Rated Output Current
20A
30A
20A
30A
Output Current Range
2-12A
0.5-5A
2-10A
0.4-4A
Tripple and Noise
60mVp-p
120mVp-p
60mVp-p
150mVp-p
Iniet Stability
± 0.5%
± 1%
± 0.5%
± 1%
Tolerance Voltage
± 0.5%
± 5%
± 0.5%
6%
DC Output Power
150W
150W
Efficiency
100%
100%
Adjustable Range for DC Voltage
110VAC/170~264VAC selected by switch 47~63Hz; 240~370VDC
Input Current
2.5A/115V 1.25A/230V
AC Inrush Current
Cold-Start Current: 35A/115V, 35A/230V
Leakage Current
<3.5mA/240VAC
Overload Protection
105%~150% Type: Foldback Current Limiting, Reset: Auto Recovery
Over Voltage Protection
......
High Temperature Protection
......
Temperature Coefficient
± 0.03% /ºC (0~50ºC)
Start, Rise, Hold time
200ms, 50ms, 30ms
Vibration
10~500Hz, 2G 10min,/1cycle, a total of 60 minutes, Each axes
Withstand Voltage
Between Input and Output: 1.5KVAC, Input and Shell: 1.5KVAC, Output and Shell: 0.5KVAC
Isolation Resistance
Input and Output Intermal: Input and Enclosute, Output and Enclosure: 500VDC/100M Ohms
Working Temperature and Humidity
`-10ºC~+60ºC (Refer to Output Derating Cutve), 20%~90%RH
Storage Temperature and Humidity
`20ºC~+85ºC, 10%~95%RH
Overall Dimension
225*98*40 mm
Weight
0.95 kgs
Safety Standards
CE
EMC Standards
Meet FCC Part 15J Conduction class B
welcome for your inquery,please feel free cantact us:

PHONE : +86 13148781852