DC(M)L Series Liquid Line Filter Drier (Solid Core)
Designed for protecting refrigeration and air conditioning system from moisture and acid.
DML driers with a 100% Molecular Sieve solid core.
DCL driers with a 80% Molecular Sieve with 20% activated alumina.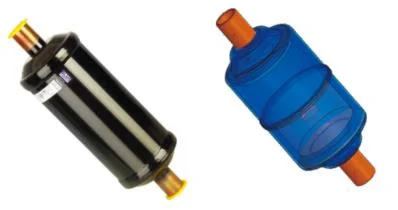 Feature
Corrosion resistant epoxy powder paint finish,Salty testing up to 400 hours;
Allow installation of any orientation in the direction shown by the arrow;
25 μm (0.001 In) Filter molecular sieve in ensuring the best filtering effect with minimal pressure drop;
Available in sizes from 3 to 75 cubic inches;
Thermally stable up to 120 °C (250°F).
Application



Technical parameter